08.11.2021 | Perspective
Work/Life Balance: Q+A with Jacquelyn Corbett
The serial entrepreneur and mother of three talks to ENSEMBL about cooking, work-life balance, and the meaning of home.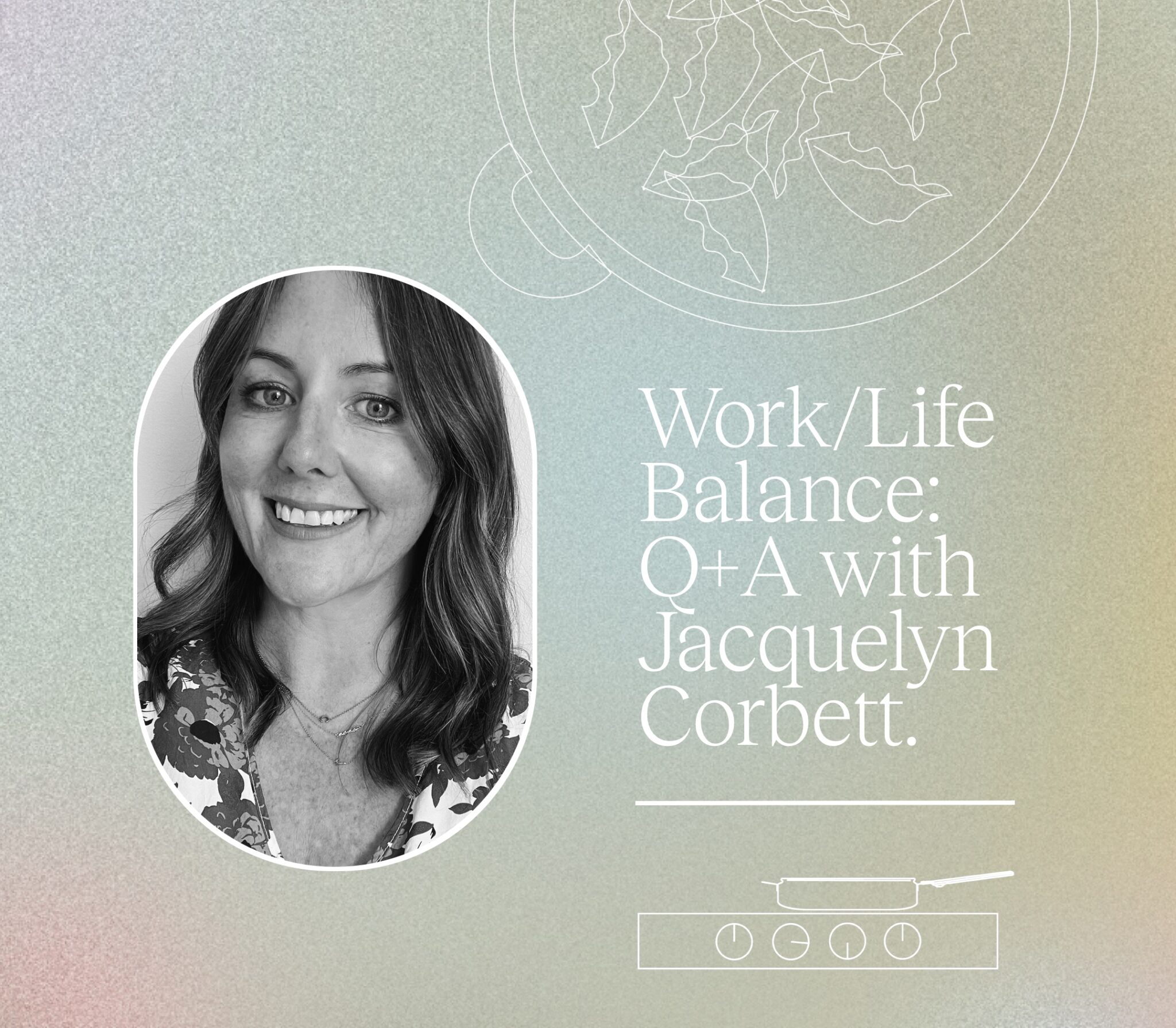 Words
Jacquelyn Corbett,
as told to ENSEMBL
Entrepreneur, builder, mentor, avid home cook, investor, and mother of three.
These are just a few of the roles Jacquelyn Corbett occupies each day.  After founding her first business at 19 and selling her second at 20, she's built a career as a serial entrepreneur and business leader, turning nothings into somethings faster than most of us can think to ask how she does it.
Jacquelyn has played an indispensable role in bringing ENSEMBL to life – as Chief Growth Advisor and Board Member –  and it is an honour to share her wisdom with you. Her motto is "doing the work works", and we think her story will both inspire and motivate you to get more done every single day.
Read our full interview with Jacquelyn below.
There are many ways someone might describe you – how would you describe yourself?
I am a curious person, at my core. Everything I do is in pursuit of learning – I develop severe malaise if I'm not trying to figure out new things. I am impatient as heck, I enjoy silliness beyond words, and I am a massive introvert, despite having all the external indications of extraversion. I am a huge softie, regular trek over to a state of outrage related to the patriarchy, and am happiest goofing around with my kiddos.
Where is home for you?
Wherever my kids are. Bonus points if my sister is there.
Has your idea of "home" evolved over time? 
I moved to Toronto from Nova Scotia in 2004, so like every east coaster, I feel perpetually displaced and miss the ocean air. I grew up in the country and couldn't wait to get to the "big city" – I used to adore the excitement and energy and so on, but now that I'm hitting my mid 40s, I really just want some quiet and fresh air – that's likely where I'll head when my kids are older.
I have an old Toronto house that I get great satisfaction from renovating and decorating. I have very strong feelings about coziness –  I love candles and baking and wool blankets and organizing big family dinners and beautiful bedding and kids having sleepovers and all of those lovely things. Right now, I find my house the most homey because it's close to my kids' school so they can come for lunch (and, yes, my seventh grader does this of his own volition, and his pals tag along – literally the sweetest thing on earth).
"I am a huge softie, regular trek over to a state of outrage related to the patriarchy, and am happiest goofing around with my kiddos."
Balancing all your responsibilities every day must, at times, feel challenging. Do you have any routines or practices that help guarantee the day feels like a success?
I universally feel like my day went well when I get a simple bike or yoga class in. It sounds so basic, but it really does just makes me feel like I've accomplished something, and didn't focus all my time on work and errands and other people's priorities. I used to be really, really bad at prioritizing looking out for myself, because my instinct is to take care of everybody else. My mindset is very, very different in my mid-40s as compared to what it was in my mid-30s, and I'm glad for that!
It's probably an understatement to say your life can get pretty busy. How do you find time to cook?
This isn't something I have to find time for – I love cooking, I love baking! They're for sure my primary hobbies. Every Sunday I scour sites and cookbooks to find fun new recipes to try in my meal plan – I like to try something new every week or two, and always have baking for the kids' lunches. The biggest hits make it into my handwritten recipe books.
"I love holidays and occasions because I get the excitement of planning the meal, timing everything in an organized way, having a great dessert. It's one part project management, one part art."
It's so important to teach kids about food, but equally important to let them feel involved and give them some ownership of the process. How do you involve yours in cooking? 
My  kids love being included in cooking and baking. My oldest bakes less with me – seventh grader – but he now likes making the family dinner. His specialty is his shrimp alfredo, which is now better than mine! My seven year old twins like to be involved in absolutely everything – I love having them help out. As a feminist parent, I'm also constantly going on to all of them about how they will be competent adults who won't rely on corner store packaged foods at any point in their lives. They love picking new recipes to try – especially baked treats – and the "getting to eat it all" part keeps them interested all day every day.
What is your weekly cooking routine?
I do a meal plan and generally do at least one meal a week that will cross two nights or a dinner-to-lunch option, and the convenience of storing it in the ENSEMBL cookware in the fridge, simply by pressing down the flat lying lid, is never lost on me!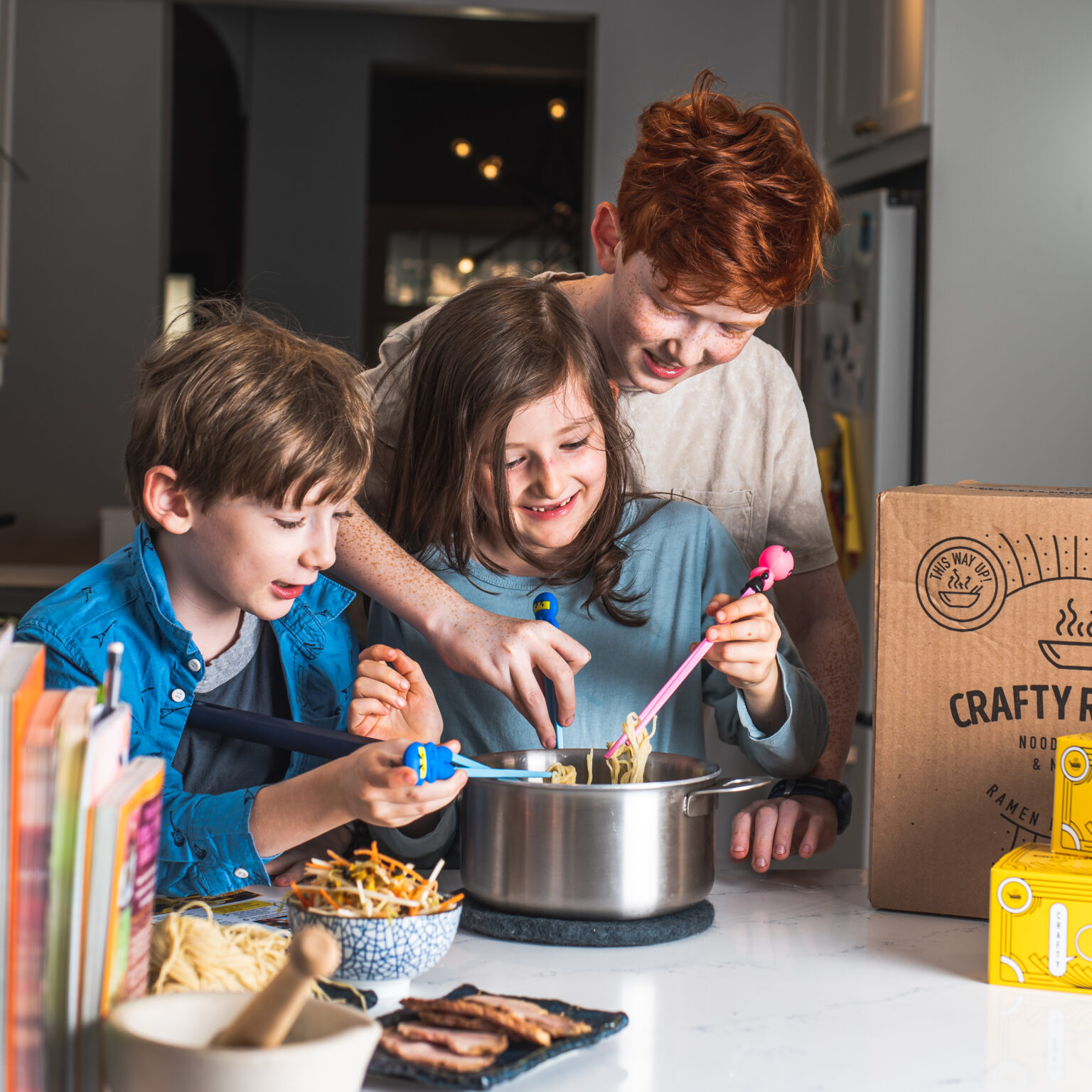 What's your favorite meal to prepare?
I have always adored doing a big family dinner – I'm not in a rush, I have time to do something more special or complicated and can just chill out in the kitchen listening to music with a nice glass of wine. (I also love little more than the smell of food simmering all afternoon.) The kids and I have started getting together with my partner and his two boys on Sundays – we alternate who's in charge of dinner and the other family does dessert. Hands down, my favourite evening of the week.
Favourite hack to simplify dinner on a busy night?
It's always noodles in some form. My kids love a cacio e pepe – I add shrimp from the seafood market down the street and some uncooked baby carrots on the side. We love a Crafty Ramen kit for something extra special and fun – the kids are big fans of being in charge of the cooking and feel like they did something very fancy. We do some variation of this at least once a week!
Q+A with JC
To start the day I need: Music playing
Favourite comfort food: Homemade mac and cheese
Favourite cocktail: Reid's Distillery gin & Fever Tree light cucumber tonic
Most used room: Kitchen
What makes a place (or space) feel like home: Family
With one extra hour, I would: Bake
I'm teaching my kids: To make the perfect turkey dinner!
Dream dinner party: My sister, my best friend, their partners and mine. We're going to start with some kind of delightful themed cocktail and charcuterie. The main is probably a seafood risotto with seared scallops, and a super fresh salad. For dessert, I'd make a homemade lemon curd and whip it with cream – rich but airy.
Free shipping on all North American orders.