13.02.2023 | Perspective
The Finer Things: Q+A with Dominic Lamirande
Dominic Lamirande AKA Dom Cooks shares everything from his go to comfort food and catch phrase to his experience on Cook at all Costs on Netflix.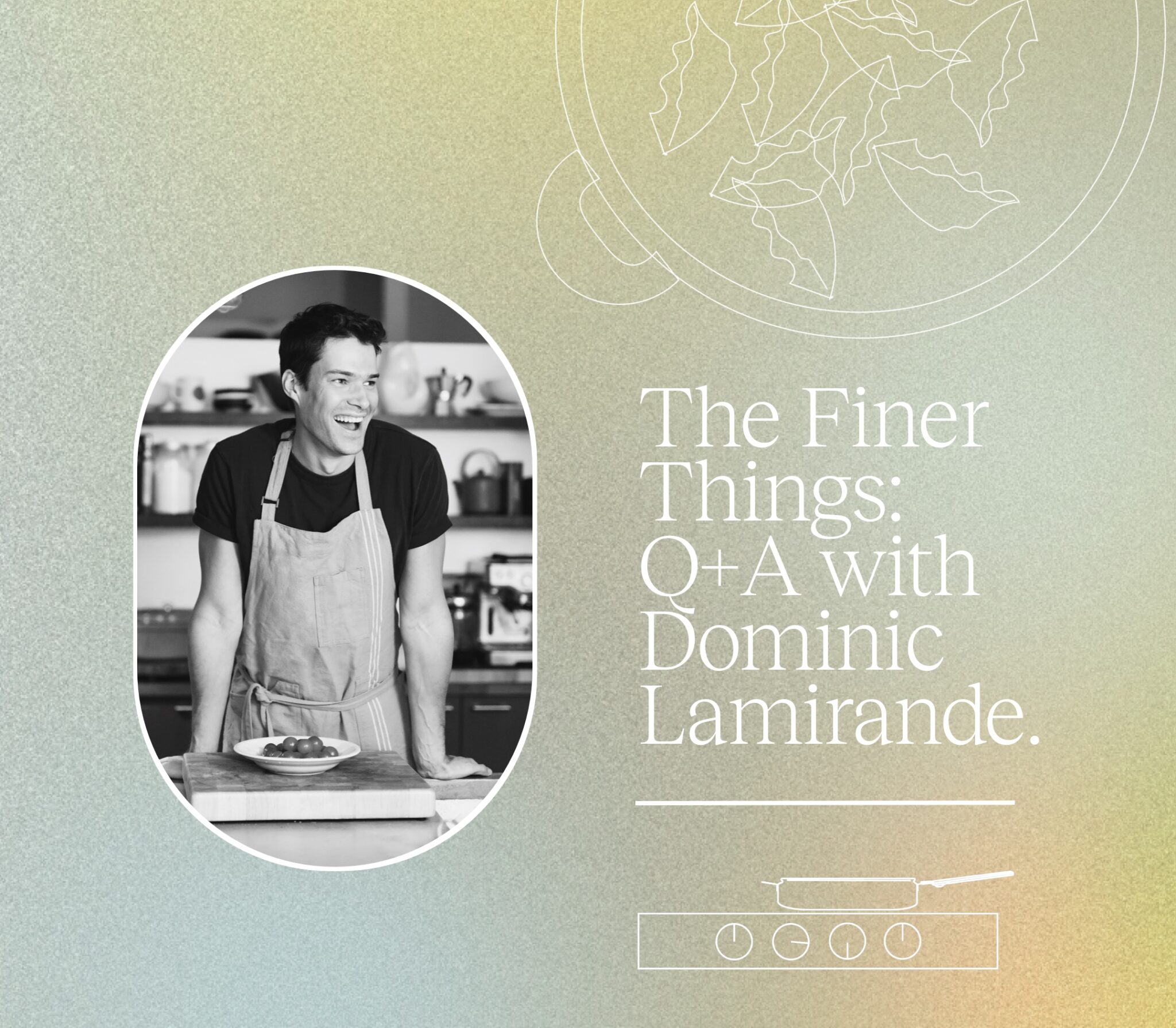 Words
Dominic Lamirande,
as told to ENSEMBL.
Dominic Lamirande is a home chef and recent winner of the "Italian Feast" episode of Cook At All Costs on Netflix. Based in Montréal, he specializes in sharing his simple, comforting and healthy(ish) recipes on his Instagram @dom__cooks. Dom is passionate about proving that we can have a healthy and wholesome diet without restricting ourselves from the foods we love.
In this interview, Dom talks with us about his favourite dishes to make and enjoy, and how he always makes room to enjoy the finer things in life.
At ENSEMBL, we talk a lot about reimagining the familiar. We believe it's important to constantly question the status quo and look for new ways to improve our lives and optimize our spaces. What is something that you do in your day-to-day life to challenge the status quo and reimagine the familiar?
The easy answer would be related to my cooking, where I always love to try new things and recipes – I rarely make the same recipe twice, unless I am testing. I'll stretch my answer and say that I love trying new things in general to break my routine. Whether it's a new yoga class, trying out a new restaurant or just going to work remotely in another location. I try to have the most exciting lifestyle I possibly can and will always fit a bit of travel in each month!
Our Stackware Collection is designed for modern life. We wanted to create cookware tools that would be multi-functional, space-saving, and design-driven. What's your favourite thing about your Stackware set?
I love the quality and sturdiness of the set. Yes the practical and space saving aspect is great, but for me it's all about knowing the set is going to be with me for the longest time!
As cookware makers, we naturally love finding new recipes to create. What's one of your favourite recipes to create in your Stackware?
I love to make my orange duck breast in The Frying Pan. It just sears beautifully and I can send it in the oven and make the sauce after using only one tool – love it!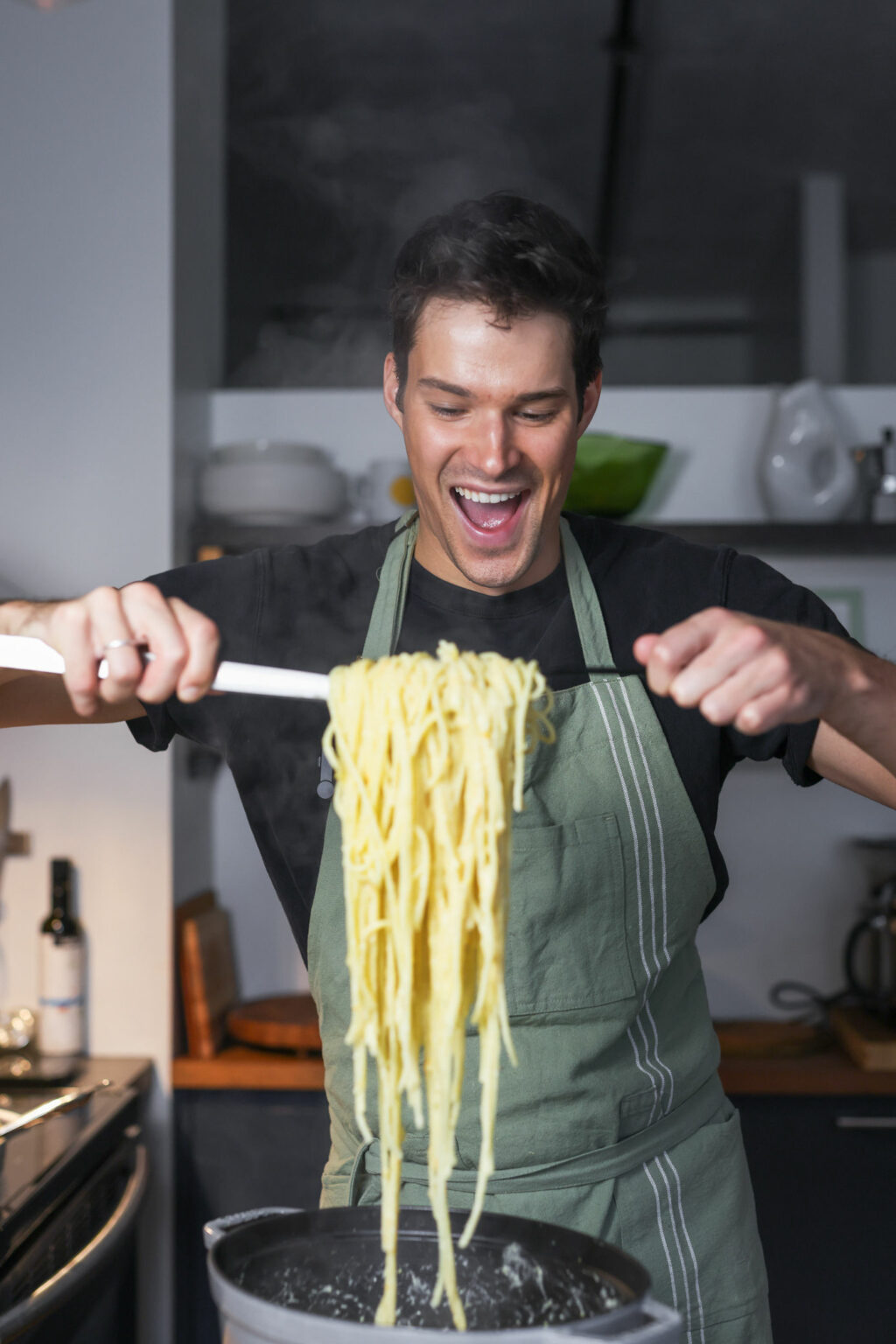 "I thrive on making my days better with food. I truly believe a good meal can comfort you after the worst day."
Too many things end up in the landfill, so we are passionate about countering throwaway culture by creating products that last and stand the test of time. What's something that you do in your everyday life to avoid excessive waste?
I try using the least amount of paper towel possible. I have a wide array of kitchen towels and I simply can't get enough! I also avoid Ziploc bags and compost the most I can.
You were recently on the Netflix series "Cook At All Costs" – what was that experience like? What was your favourite part?
It was such a fun show to be on! Definitely challenging especially with the first round where I had cheap ingredients to work with. My favourite part was the pride I got from serving my dish in the final round. It was a deconstructed eggplant parmesan recipe that was layered with flavours and textures – and it made me the winner of the show!
ENSEMBL is proud to have you in our circle of Stackware lovers. Why does Stackware make sense for your life?
I literally have a cupboard assigned to my cookware – and it fits perfectly. I love that each piece has its own use and purpose and that I really use the most out of everything! It also makes sense when it comes to cleaning – The Removable Handles just make it so much easier!
Dominic on set of Netflix series "Cook At All Costs."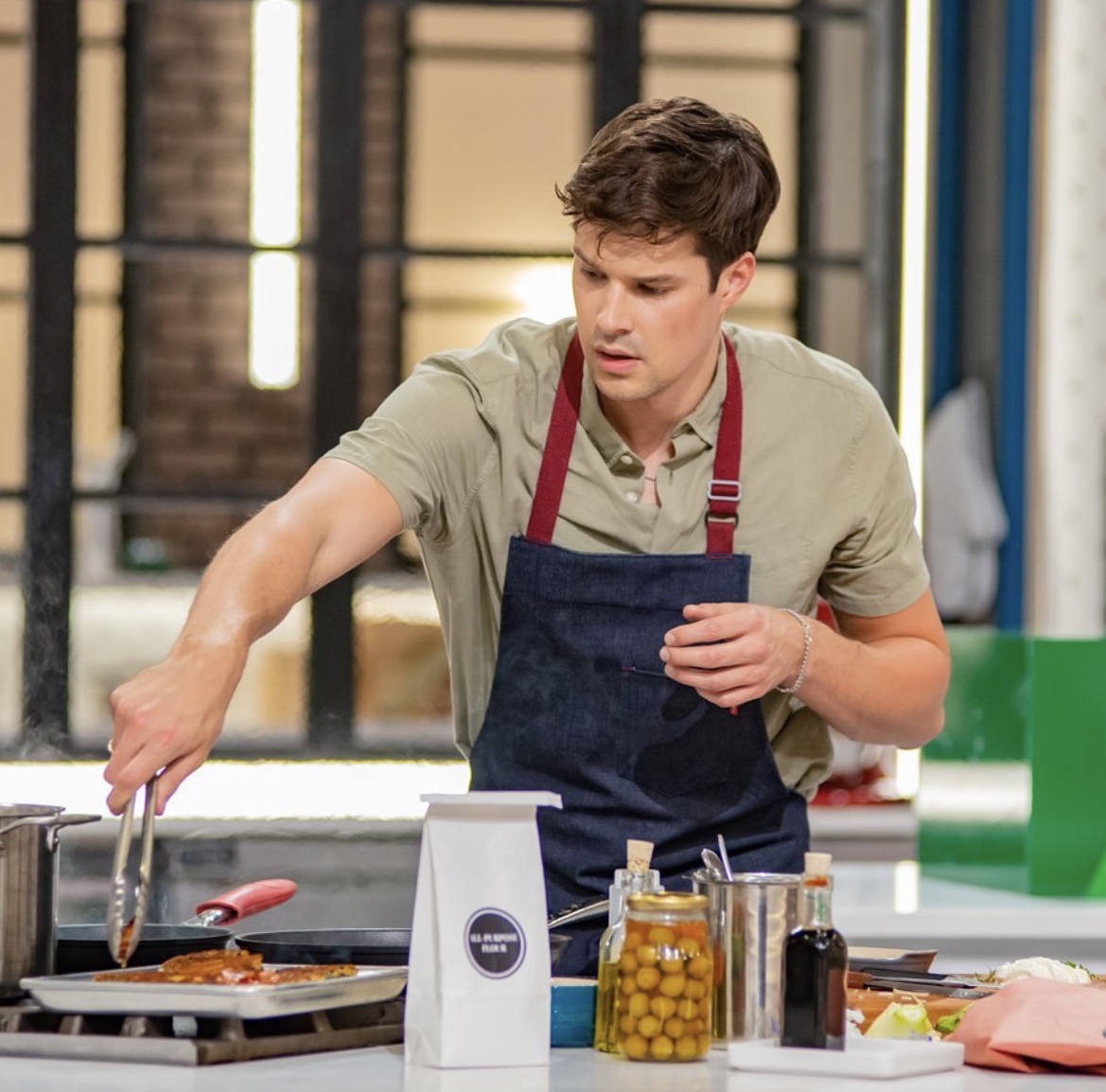 Dominic on set of Netflix series "Cook At All Costs."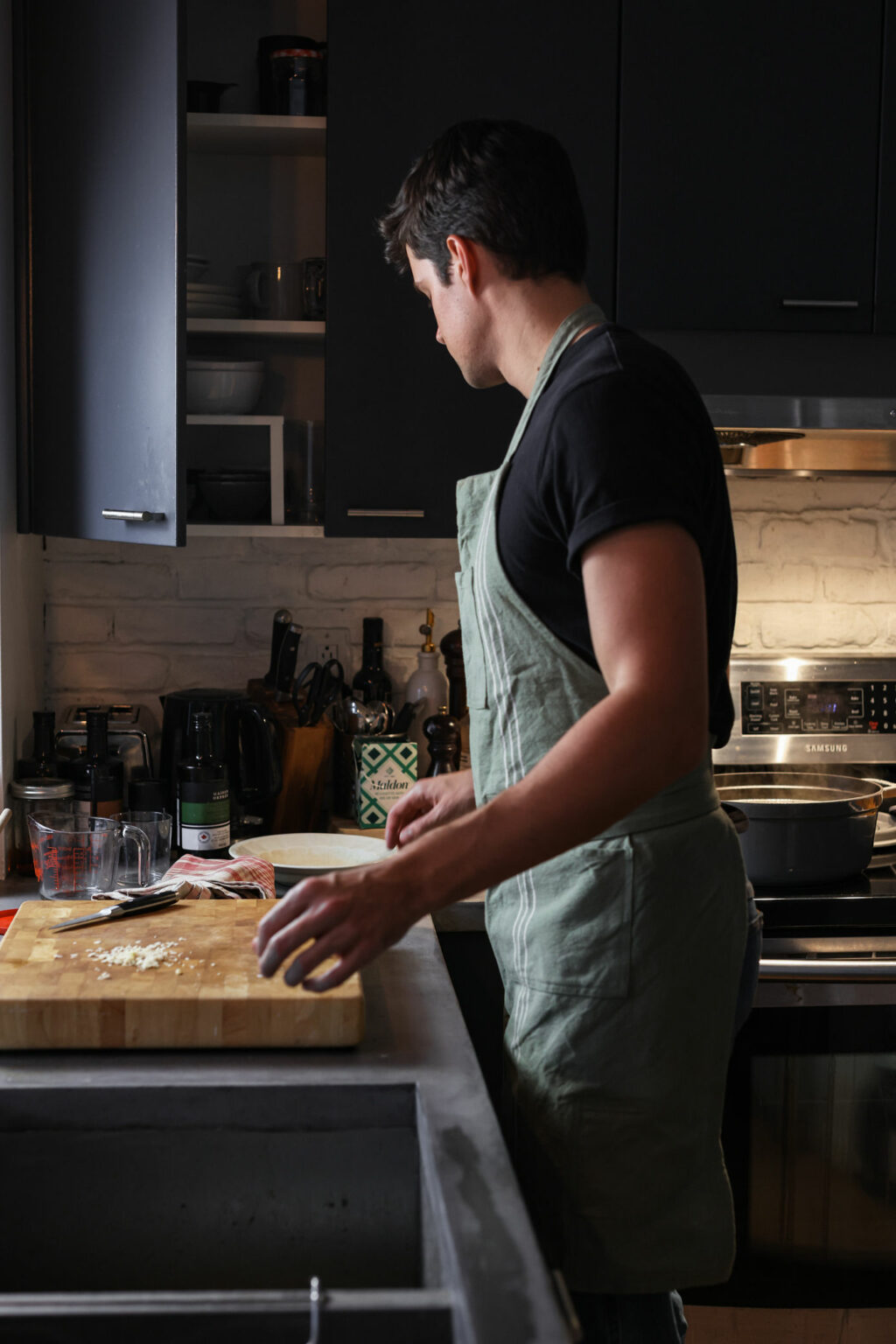 What piece from the Stackware Collection could you never live without?
What's your favourite memory from 2022?
Mhhh a tie from my week in Los Angeles back in March and filming / winning Cook at all Costs.
What's your go to comfort food?
Any kind of braised meat (beef short-rib is high on the list) along with creamy polenta or mashed potatoes.
Sweet or savoury?
Savoury!
What would be your last meal?
I never know how to answer this question – there's just too much to choose from. Probably a starter of Tortellini in Brodo with a seafood tower (roasted shrimp cocktail, scallop ceviche and salmon tartare), a small bowl of spaghetti carbonara, another small bowl of pappardelle with homemade tomato sauce, a very nice roast chicken with truffles, mashed potatoes with caviar and the most delicious citrus tart for dessert. I know, I have expensive taste.
What's one motto, catchphrase, or quote that you keep in your back pocket?
I always say «SO GOOD» at the end of each video I make, so I guess that's the motto? 😉
What's your favourite dish to make?
Probably my famous mushroom pappardelles. Another very comforting and delicious recipe!
What city has the best food in the world?
I have to say we are pretty spoiled in Montréal but I'd have to go with New York. Although I haven't been to Asia and South America, I still have a long way to go in terms of traveling.
What's your zodiac sign?
Virgo!
What's your favourite restaurant in Montréal?
Another very tough question. For consistency, ambiance, wine options and all around deliciousness every-time, I will have to go for Monarque.
–
We asked Dom to share his favourite songs to cook and listen to for our Spotify! His curated playlist is filled with a mix of upbeat and lo-fi beats that make for a guaranteed dance party in the kitchen.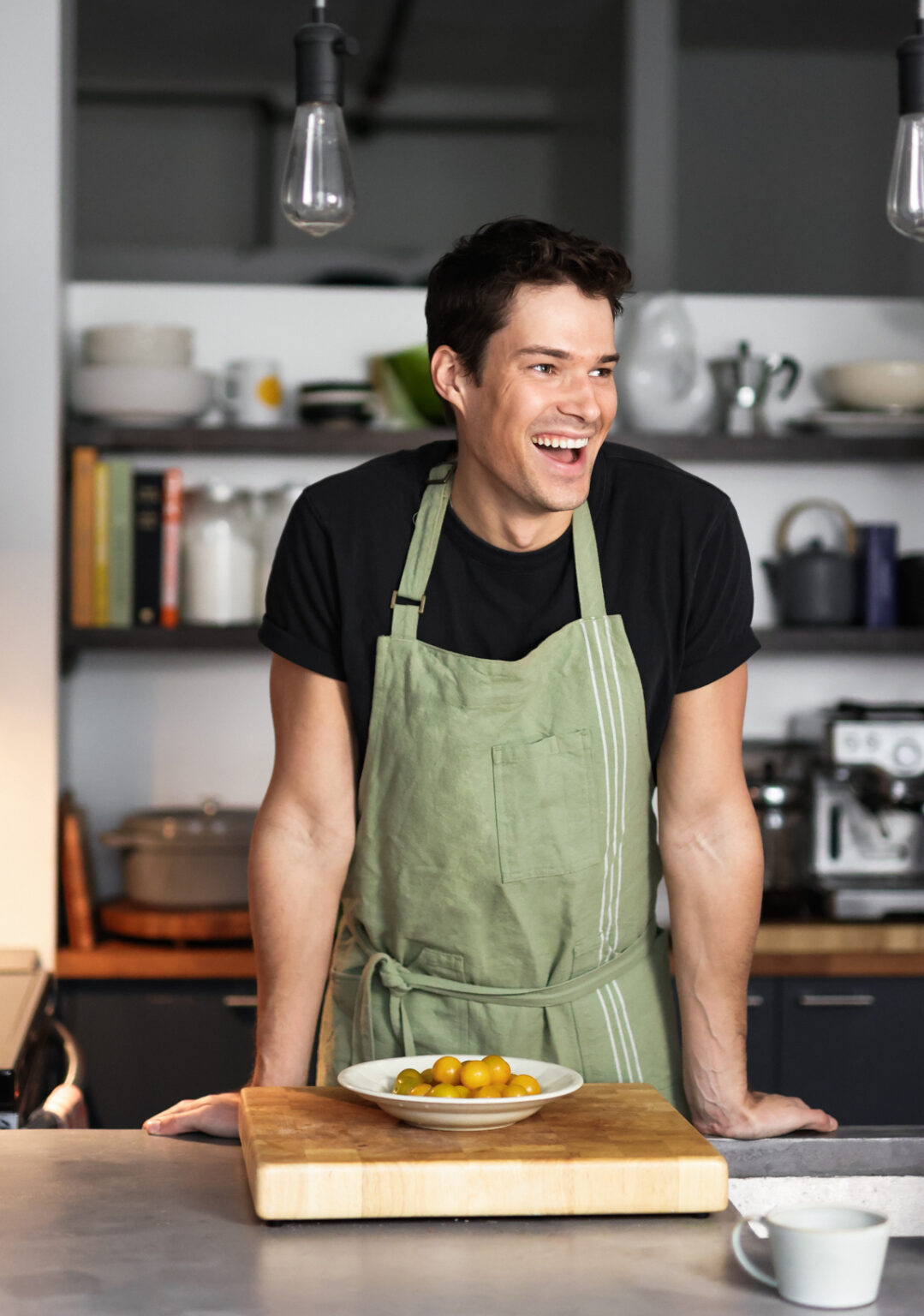 Free shipping on all North American orders.