15.03.2022 | Perspective
Ten Ukrainian Creatives We Admire
In the midst of conflict, it's easy to forget what's really at stake: people. Presenting a showcase of the unique and resilient culture of Ukraine through the work of ten creatives we admire.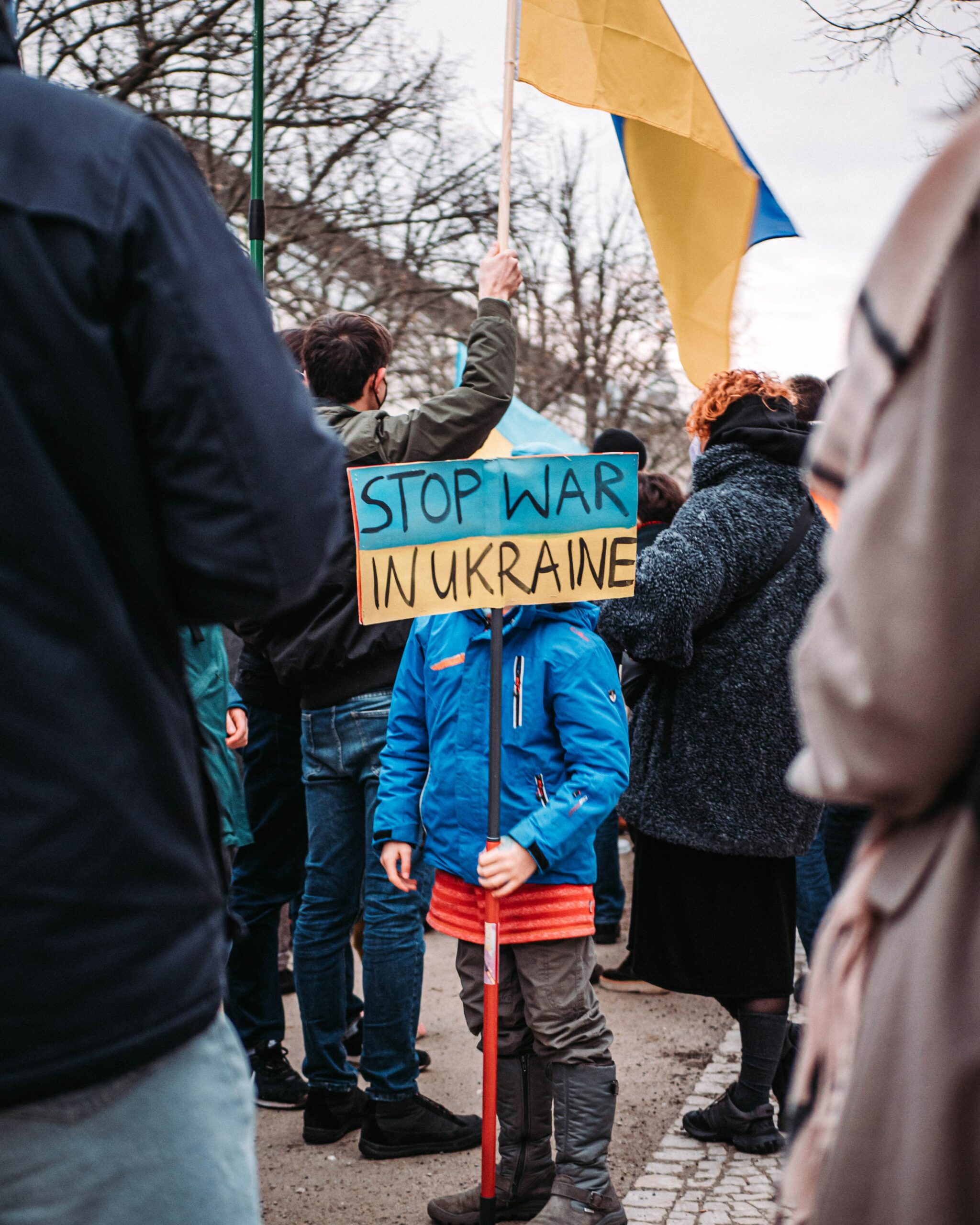 The world's attention is on the illegal invasion and occupation of Ukraine.
Amidst the horror, we are endlessly impressed by the tenacity and spirit of the Ukrainian people.
In addition to sharing resources to support Ukraine and Ukrainian people, we are taking this time to share some of our favourite Ukrainian creators – designers, authors, artists, chefs, and musicians – who capture this unique and resilient culture.
If you are looking to offer support or donations, we recommend these resources for Canada and the United States, as well as Chef Jose Andres World Central Kitchen that is on the ground feeding Ukrainians, refugees and fighters alike.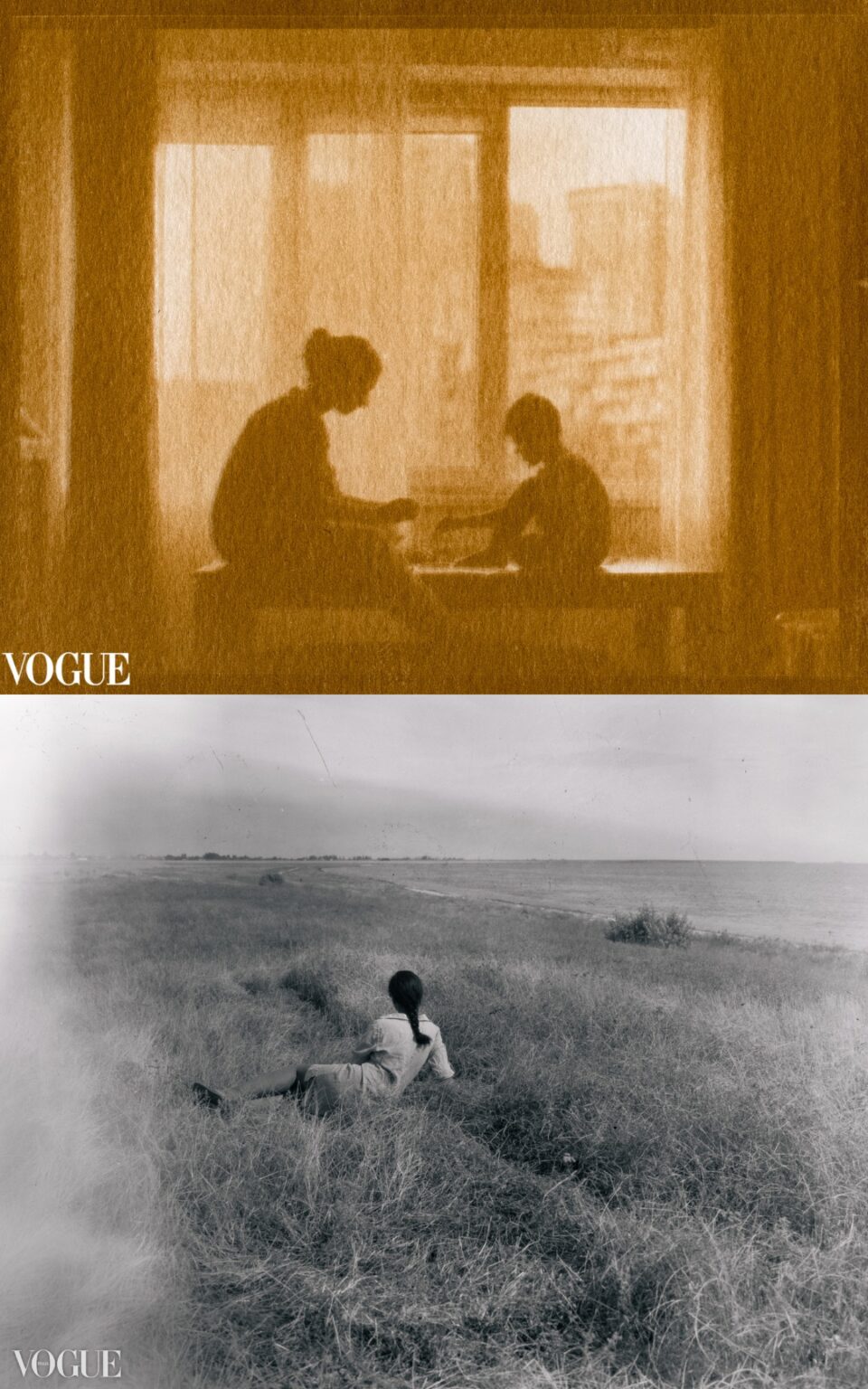 Photographs by Valery Veduta. Mother and Child, February 21, 2022. Woman in Field, November 19, 2019.
Ten Ukrainian Creatives We Admire
Oleg Sensov – Filmmaker, writer, activist
Oleg Sentsov is a Ukrainian filmmaker, writer and activist. Born in Crimea, Sentsov's protest of Russia's occupation of Ukraine led to his kidnapping, arrest and criminal trial. He has been imprisoned in Russia since 2016. Life Went On Anyway is among his best known books, reflecting on his life in a series of short autobiographical stories.
Valery Veduta – Photographer
Valery Veduta is a Kyiv-based contemporary photographer, shooting on film in a documentary and fine art style.
His photobook, Gray Contour, features a series of landscapes that were shot in 2017 – 2019 in The Arabat Spit, located between the Henichesk Strait to the north and the north-eastern shores of Crimea to the south.
Most recently Veduta has been documenting his family's journey during the war. Starting with their move to the parking garage of an apartment building, and now as they flee to Lviv, Veduta's candid and heartfelt imagery shows in real time what life under Putin's attack.
Artem Trigubchak + Lera Brumina – Interior designers 
Ukraine's combination of Soviet history and modern democracy have borne a generation of interior designers with a style all their own.
Artem Trigubchak + Lera Brumina are Kyiv-based interior designers and frequent collaborators. They say they "are endlessly inspired and love the architecture of the Soviet period, and we really wanted to create a comfortable working space without violating the architectural context".
Artem Trigubchak's work focuses on maintaining open spaces and draws on Soviet influences.
Lera Brumina oversees commercial and residential projects, utilizing clean lines, colour, and industrial materials.
Photographs by Valery Veduta. Mother and Child, February 21, 2022. Woman in Field, November 19, 2019.
DakhaBrakha – Musicians
DakhaBrakha is a Ukrainian folk music quartet that draws its influences from across Eastern Europe.
Originating in Kyiv, their unique sound infuses traditional Ukrainian music with elements of other cultures, including instruments from India, Australia, and the Middle East. In 2021, they were awarded the Shevchenko National Prize, Ukraine's highest award for culture and arts.
Svetlana Bevsa – Fashion designer
Svetlana Bevza is the Kyiv-based founder and designer behind Bevza, where she has made a name for herself as a trailblazing sustainable designer whose clothes double as "love letters to the earth".
Elegant knitwear crafted from recycled plastic bottles and updated classics like trench coats in a signature nubby rib knit have made Bevza a sought after brand, praised by the likes of Vogue.
Volo Bevza – Visual artist 
Volo Bevza is a Kyiv-born, Berlin-based visual artist. Their paintings contrast sharp geometric figures against abstract backgrounds, all illuminated by Bevza's masterful use of colour.
Olia Hercules – Chef + Food Writer
Olia Hercules is a Ukrainian born, London-based chef whose recipes and food writing have won her a dedicated following and praise from the likes of Nigella Lawson. Her recipes offer personal stories to go along with classic dishes, such as Mamushka: Recipes from Ukraine and Eastern Europe, her most famous cookbook.
With family fighting on the frontlines in the current war, Hercules recently established a fund to deliver protective equipment to those fighting on Ukraine's front lines, including her brother.
Untitled piece from Bigibans series by Volo Bevza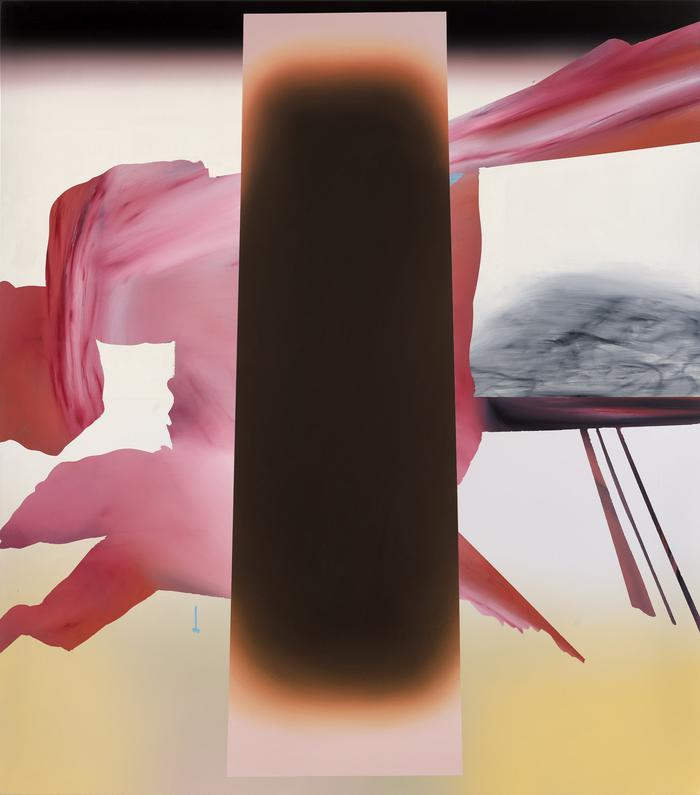 Untitled piece from Bigibans series by Volo Bevza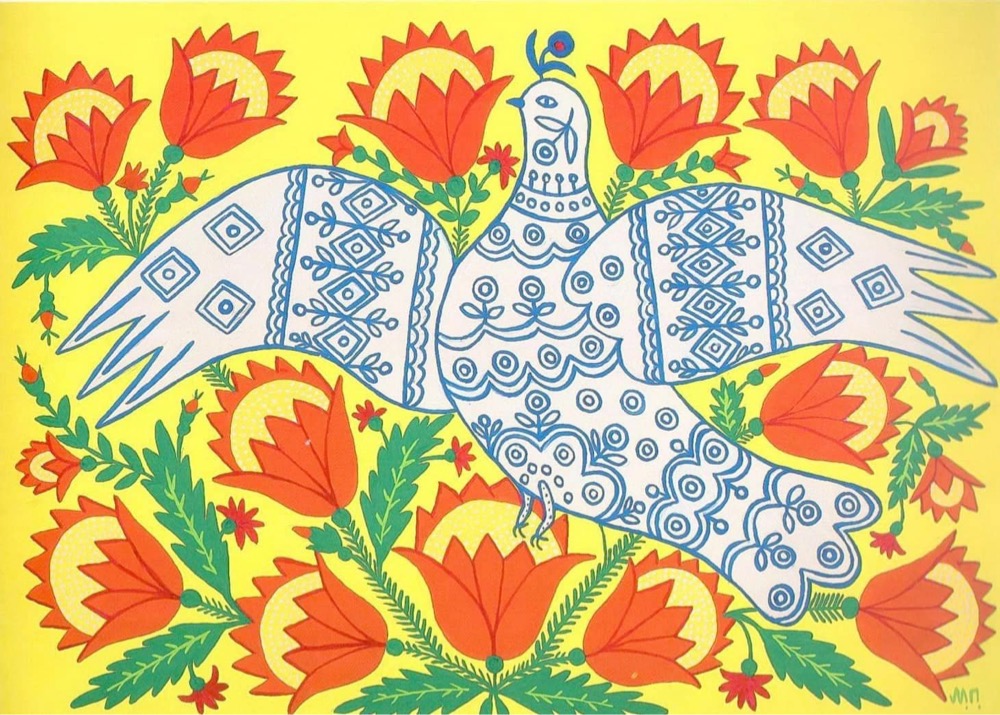 A Dove Has Spread Her Wings and Asked for Peace by Maria Prymanchenko. 1982.
Maria Prymanchenko – Visual Artist
Maria Prymanchenko (1907 – 1977) was a Ukrainian folk artist whose work transcended paintings, embroidery, and ceramics.
Her pieces portrayed colourful portrayals of flowers and animals. From a young age, her work was inspired by ideas of peace and later met international acclaim.
2009 was named the year of Maria Prymanchenko in Ukraine and even Picasso once said "I bow down before the artistic miracle of this brilliant Ukrainian."
25 of her paintings are known to have been destroyed in a Russian invasion that burned down the Ivankiv Museum in Kyiv. You can explore her art here.
A Dove Has Spread Her Wings and Asked for Peace by Maria Prymanchenko. 1982.
Kate Zubarieva + Asiya Varetsa – Fashion Designers
Kate Zubarieva and Asiya Varetsa founded Sleeper, a luxury brand making nightwear that doubles as daywear, in Kyiv during the peak of the 2014 Ukrainian Revolution for Dignity.
After five years working at Ukrainian fashion magazines, the political situation was a push for them to recognize what they truly wanted and go after it. "We lived through a true nightmare which made our recognition and acceptance our true values swift."
Today, Sleeper, which makes luxury nightwear that doubles as daywear, is an international staple, with fans including Millie Bobby Brown, Chloe Grace Moretz, and Brie Larson.
Oleg Drozdov – Architect
Oleg Drozdov is an architect and founder of Drozdov and Partners, an architectural bureau based in Kharkiv.
Early projects appeared in the first wave of private investment in Ukraine after the collapse of the Soviet Union, focusing on openness and the search for connections between urban space and architecture, architecture and nature.
The team's clean, modern designs have won them global acclaim, including two 2022 nominations for ArchDaily's Building of the Year Award.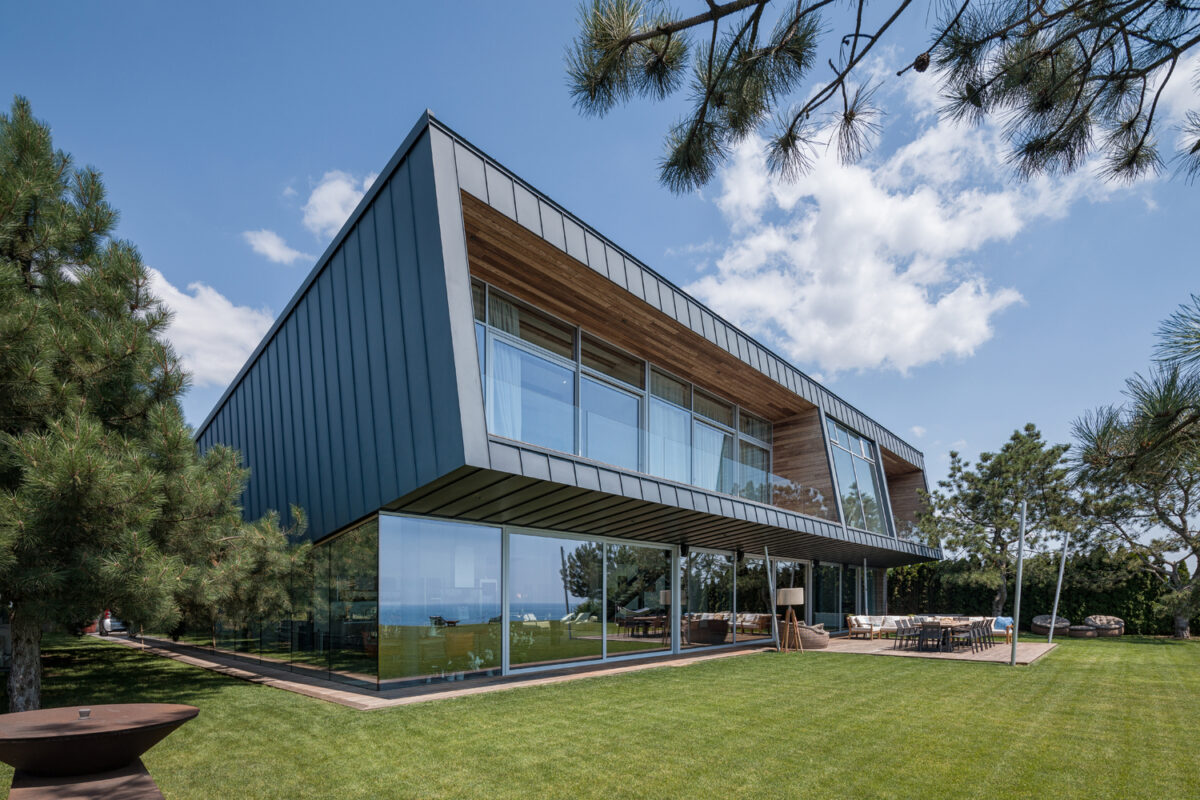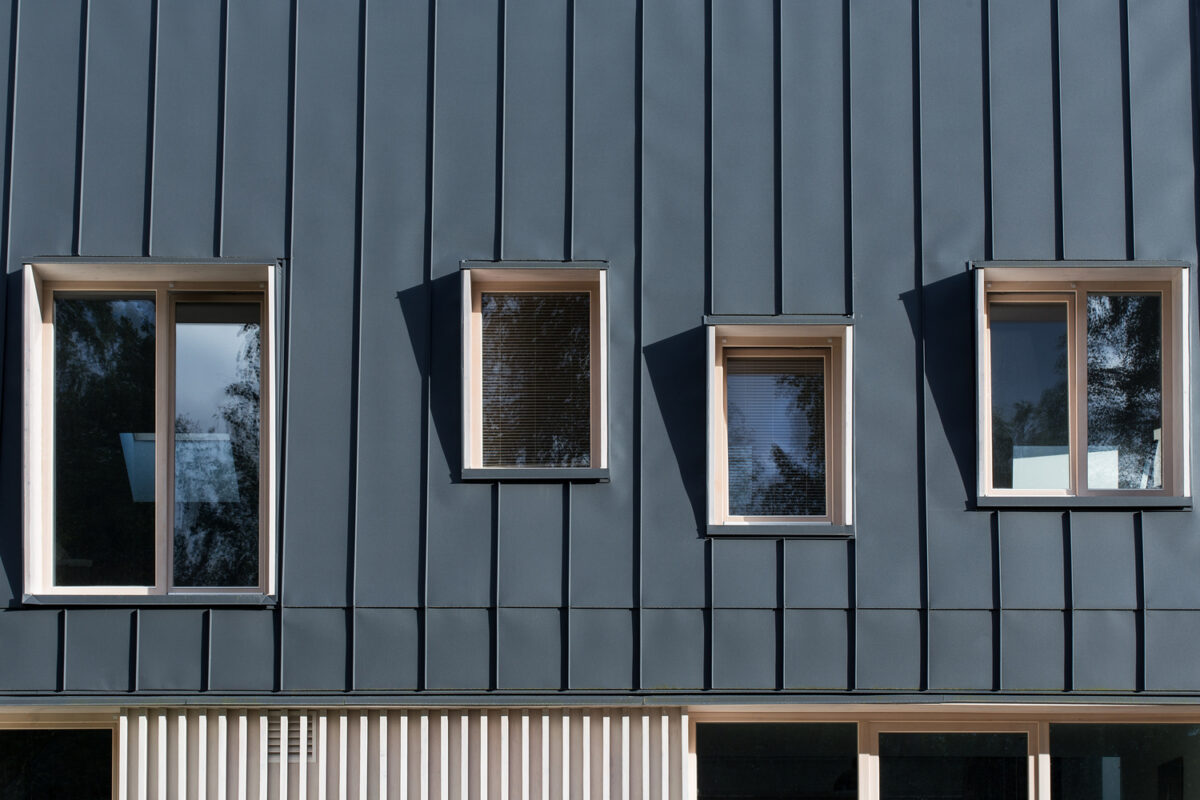 If you'd like to further explore the work of Ukrainians, we recommend the following resources:
And if you'd like to deepen your perspective on the conflict, we recommend reading I Will Die in a Foreign Land by American author Kalani Pickhart. This 2021 novel chronicles the life of four civilians during the winter of 2013-2014, when Ukrainians last fought for their independence. A touching story that puts faces to real world conflict.
Free shipping on all North American orders.