29.09.2021 | Perspective
Recipe: Milk Tea Panna Cotta
Cook with us. Learn to make Milk Tea Panna Cotta - a delicious, make-in-advance dessert that will simultaneously wow guests and simplify your next dinner party.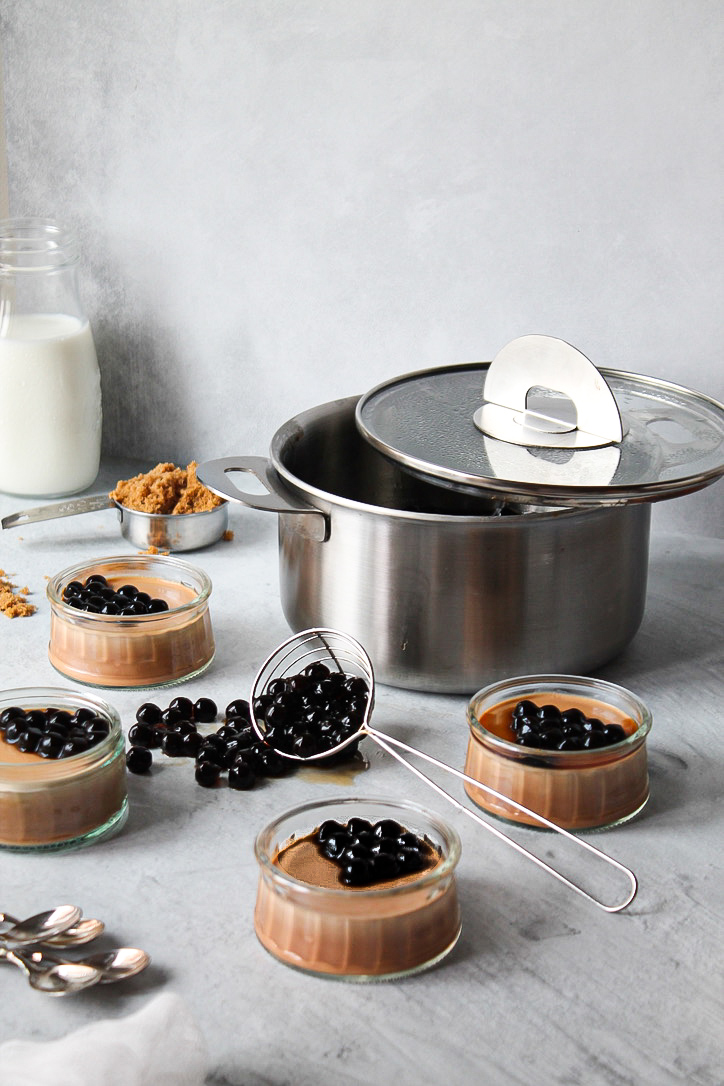 Recipe + Photography:
Chef Vicky Tran
for ENSEMBL
Our "Return of the Dinner Party" menu was inspired by memories of past adventures  – melded with the places we can be in, now.
Shanghai. A city we've visited countless times and the centre of Stackware production. Toronto. The location of our first Canadian retail store.
Chef Vicky Tran took Shanghai-staples and put a Toronto spin on them, transforming foods we feel nostalgic for into something new.
This Milk Tea Panna Cotta transforms the Panna Cotta you might find in Toronto's Little Italy into a bitter milk tea, reminiscent of the milky drink found in pop-up shops and corner street stalls around Shanghai. Topped with perfectly sweet Tapioca Pearls, there is no mistaking it: this is a new way to enjoy the flavours of Bubble Tea.
Balanced, unexpected, and easy to make the night before.
Milk Tea Panna Cotta with Brown Sugar Tapioca
Yield: 6 x 4 oz ramekins
Prep time: 30 minutes
Cook time: 40 minutes
Gluten Free, Vegetarian
Ingredients
1 ½ cup water
10 bags black Ceylon tea
1 cup 35% cream
½ cup evaporated milk
3 tablespoon condensed milk
¼ teaspoon kosher salt
8 grams gelatin powder
3 tablespoon water ( to bloom the gelatin powder)
1 ½ cup tapioca pearls, cooked according to packaged directions, rinsed and drained
3 tablespoon brown sugar
½ teaspoon vanilla extract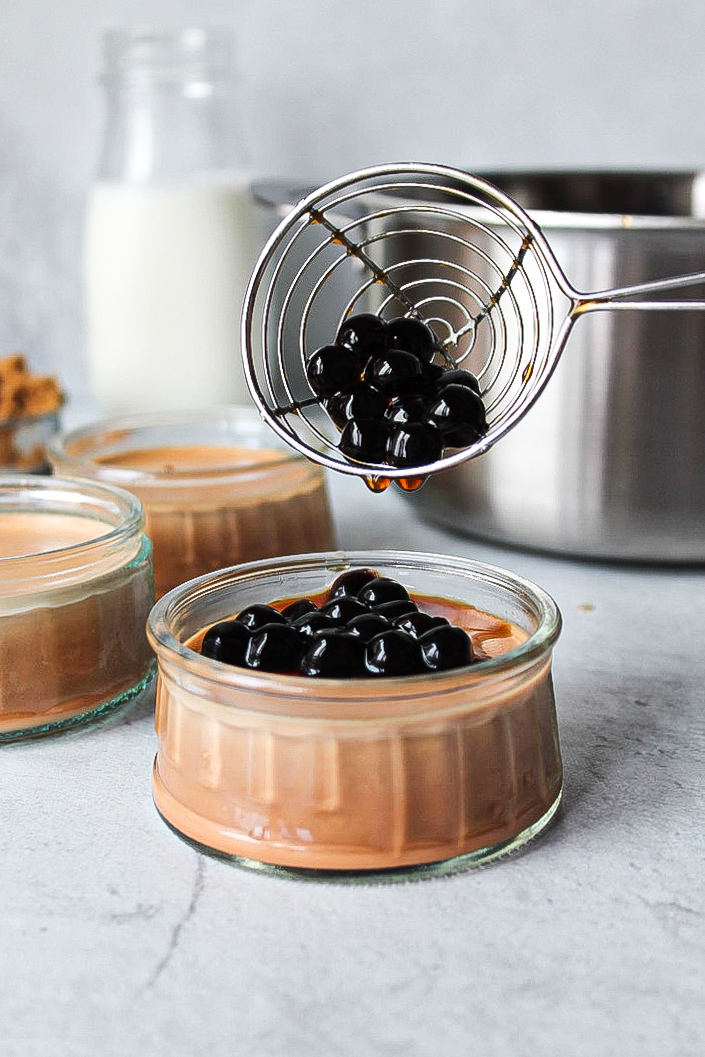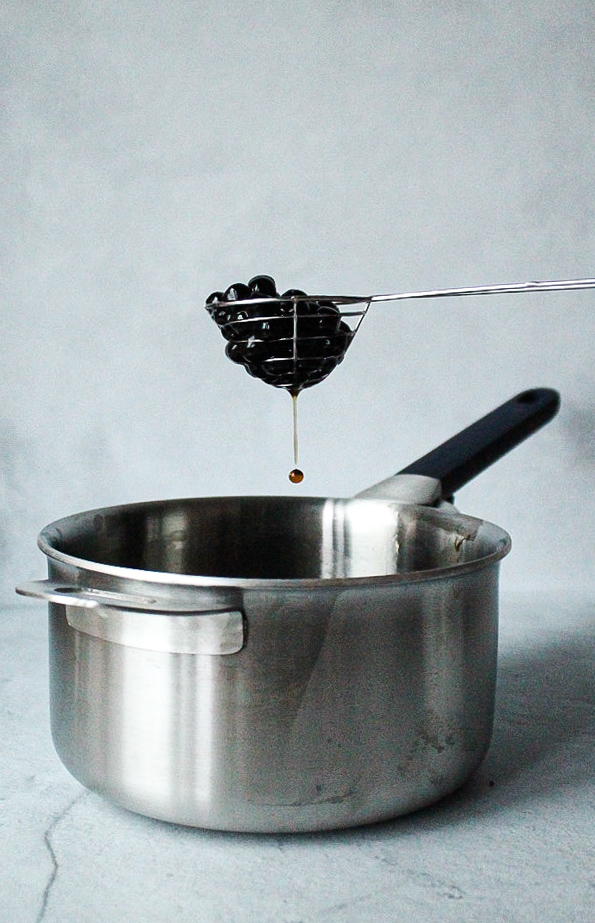 Method
Bring the 1 ½ cups water to a boil, add in the black Ceylon tea bags, simmer for 5 minutes and then remove from the heat and allow to steep for 10 minutes.
While the tea is steeping, prepare the gelatin by combining it with the 3 tablespoons of water, mix well and allow to bloom (the gelatin will absorb the water) for at least 10 minutes.
Strain the tea into a small saucepan, discarding the tea bags, add in the 35 % cream, evaporated milk, condensed milk, kosher salt and heat until just about to boil.
Incorporate the bloomed gelatin powder, whisk to combine and divide the panna cotta mixture evenly amongst 4-5 oz ramekins. Allow the panna cotta to cool in the ramekins at room temperature before wrapping and then chilling in the fridge overnight.
The next day, cook the tapioca according to package directions, rinse and drain. In a small saucepan combine the brown sugar and vanilla extract. Cook on medium heat until the sugar has melted then mix in the drained and cooked tapioca pearls off the heat.
To serve, top each ramekin of panna cotta with approximately 2 tablespoons of the brown sugar tapioca.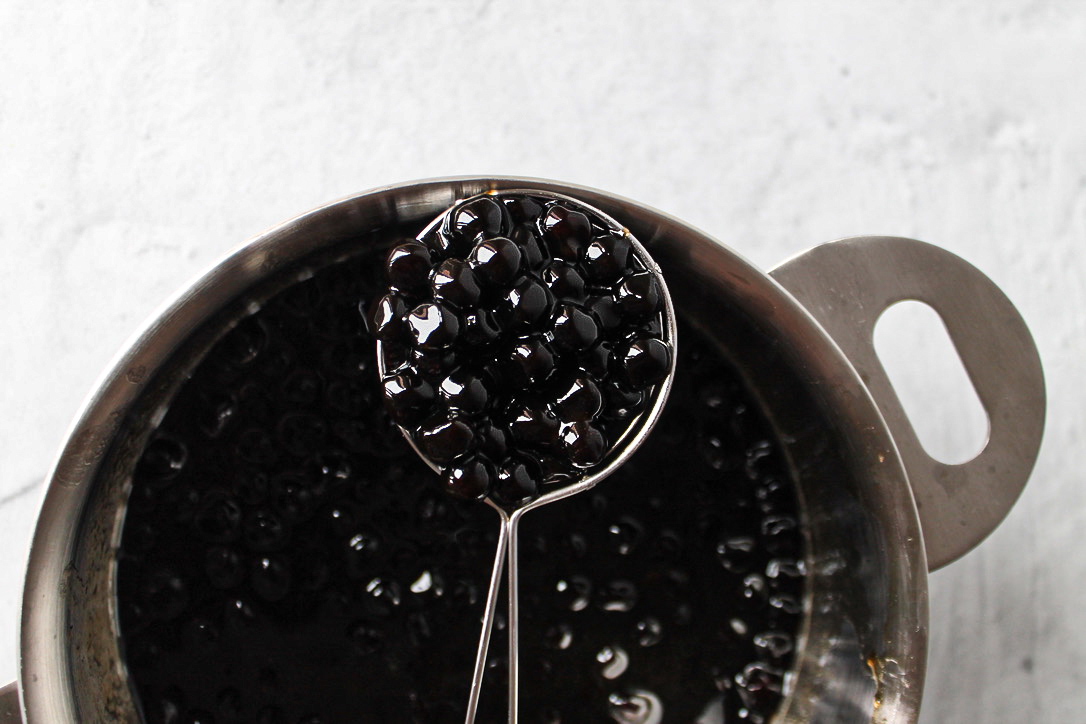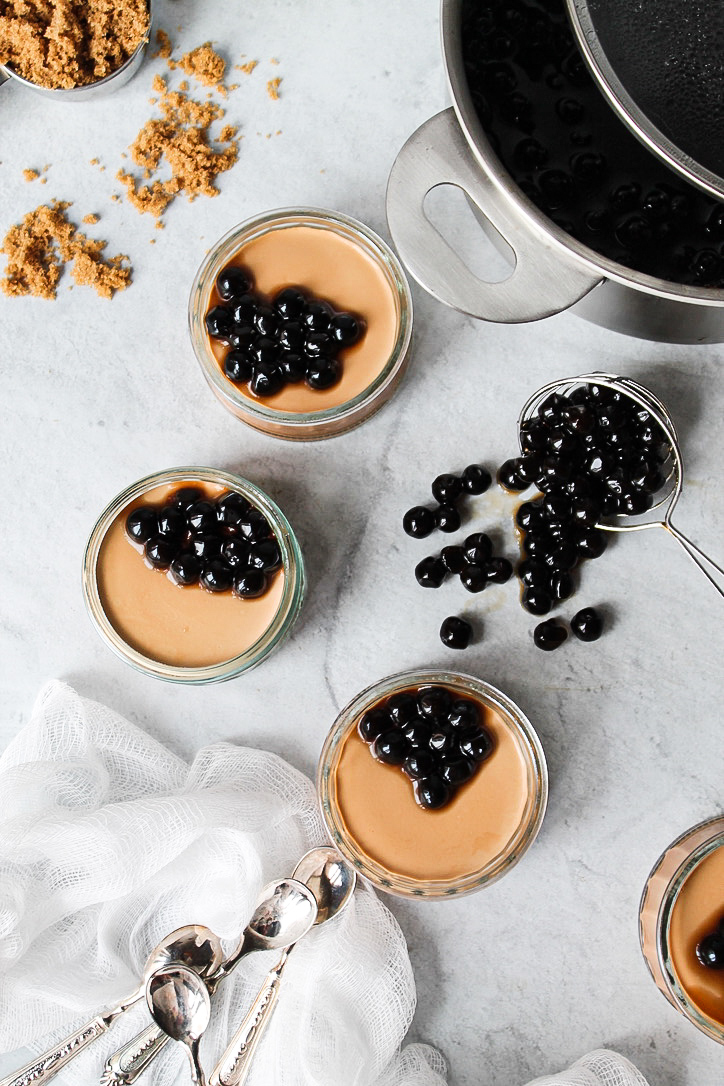 Free shipping on all North American orders.