29.09.2021 | Perspective
Recipe: Local Mushroom Hot + Sour Soup
Cook with us. Learn to make Hot + Sour Soup - packed with flavour and a bevy of mushrooms, make it in advance; this is a dish that really shines when served on the second day.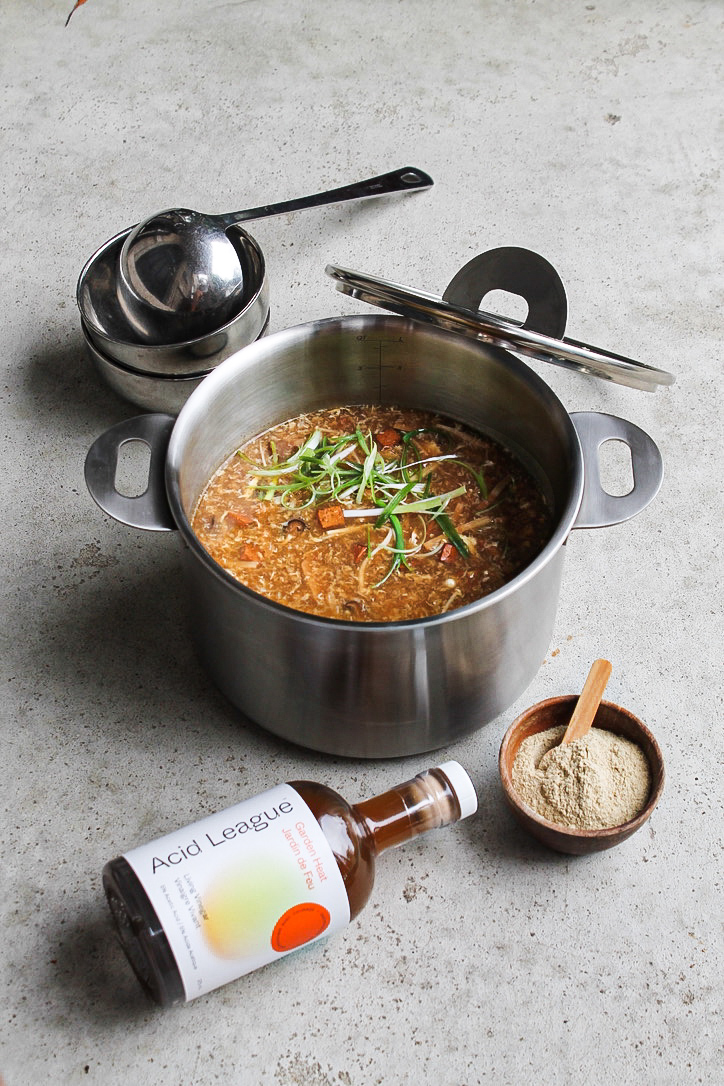 Recipe + Photography:
Chef Vicky Tran
for ENSEMBL
Our "Return of the Dinner Party" menu was inspired by memories of past adventures  – melded with the places we can be in, now.
Shanghai. A city we've visited countless times and the centre of Stackware production. Toronto. The location of our first Canadian retail store.
Chef Vicky Tran took Shanghai-staples and put a Toronto spin on them, transforming foods we feel nostalgic for into something new.
This Local Mushroom Hot and Sour Soup relies on a mix of local enoki and king oyster mushrooms + Acid League's Garden Heat Living Vinegar (a Toronto brand) to bring a new level of substance and brightness to a Chinese classic. While this soup has roots in Beijing and Sichuan, Shanghai's vast culinary scene makes it easy to find and enjoy.
Local Mushroom Hot and Sour Soup
Yield: 6 servings
Prep time: 30 minutes
Cook time: 15 minutes
Vegetarian, Gluten Free
Ingredients
8 cups Low sodium chicken or vegetable stock
3 whole dried chilies, split and seeds removed
½ cup Acid League's Garden Heat Living Vinegar
¼ cup tamari
½ teaspoon coconut caramel syrup
1 teaspoon ground white pepper
1 teaspoon sesame oil
1 teaspoon granulated sugar
150 grams enoki mushrooms, 1.5 inch of base trimmed and discarded
150 grams baby king oyster mushrooms, sliced
100 grams bamboo shoots, drained and sliced into matchsticks
120 grams spiced tofu, diced ¾ cm size
120 grams firm tofu, diced ¾ cm size
20 grams dried shiitake mushrooms, reconstituted, woody stems removed and sliced
2 large eggs, beaten
Kosher salt, to taste
3 stalks scallions, sliced
For the slurry
⅓ cup cornstarch
¼ cup water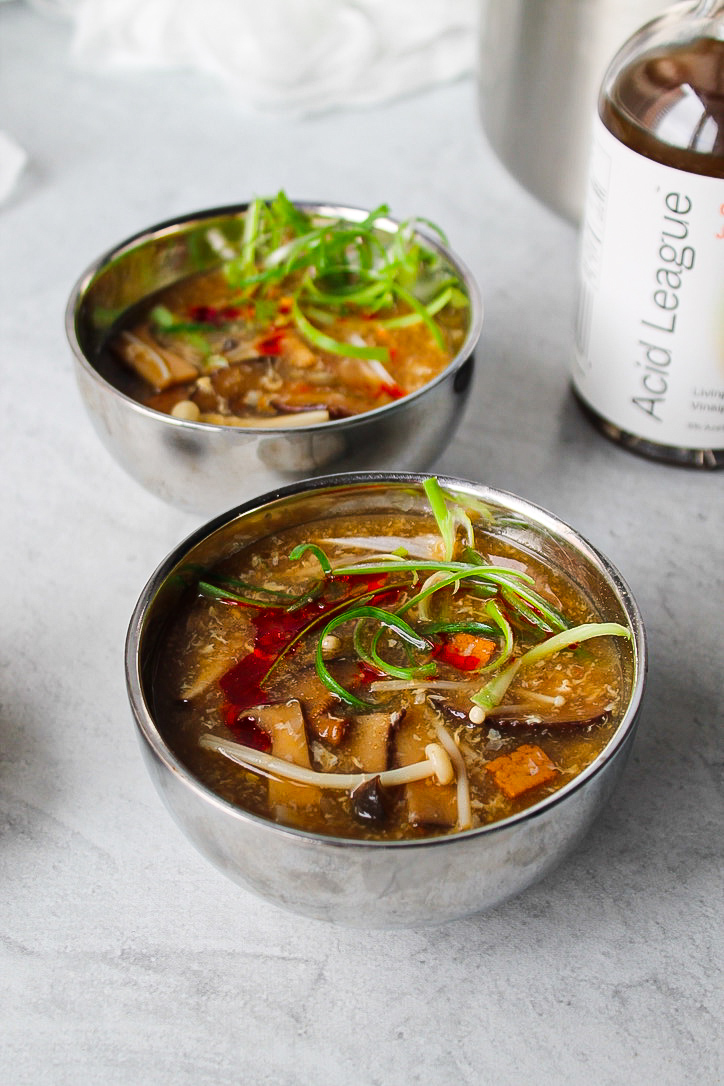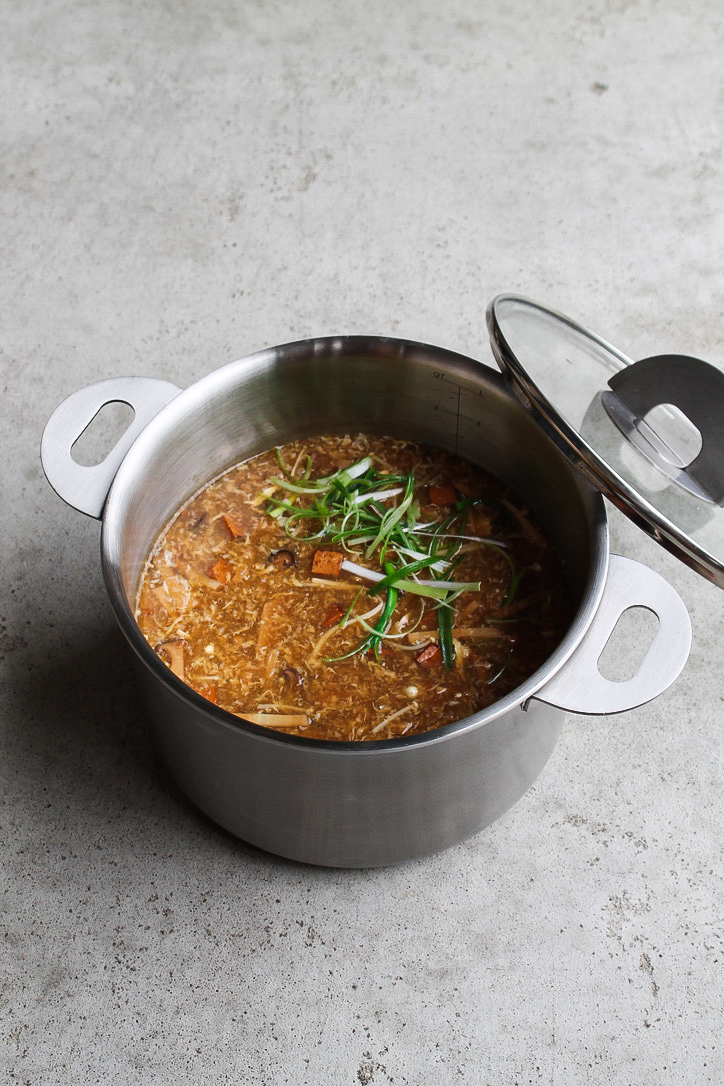 Method
In a medium saucepan, bring the chicken or vegetable stock to a boil, then add in the dried chilies, Acid League Vinegar, tamari, coconut caramel syrup, ground white pepper, sesame oil and sugar.
Bring entire mixture to a boil again, then add in the sliced enoki mushrooms, sliced baby king oyster mushrooms, sliced bamboo shoots, spiced tofu, firm tofu, reconstituted and sliced shiitake mushrooms and allow to simmer for 5 minutes.
While the soup is simmering, prepare the slurry by combining the cornstarch with the water and stir to combine until even.
Bring the soup to a boil again, ladle about ½ cup of the soup broth into the slurry mixture and mix well, this step helps to ensure that the slurry does not get clumpy when incorporated with the soup.
Add this entire mixture back into the soup and simmer for at least 2 minutes. Check the consistency of the soup at this point, prepare and add additional slurry according to preference if necessary.
Lastly, while the soup is at a rolling simmer, use a wooden spoon and stir the soup in a circular motion and add in the beaten eggs,  continue to stir until the eggs 'blooms' into wispy ribbons.
Adjust the soup seasoning with additional salt, white pepper for heat or vinegar for more tartness.
Top with sliced scallions before serving.
Free shipping on all North American orders.