29.09.2021 | Perspective
Recipe: Corn + Leek Dumplings
Cook with us. Learn to make Ontario Corn + Leek Dumplings - an unexpected combination so addictive you'll most certainly need a double batch.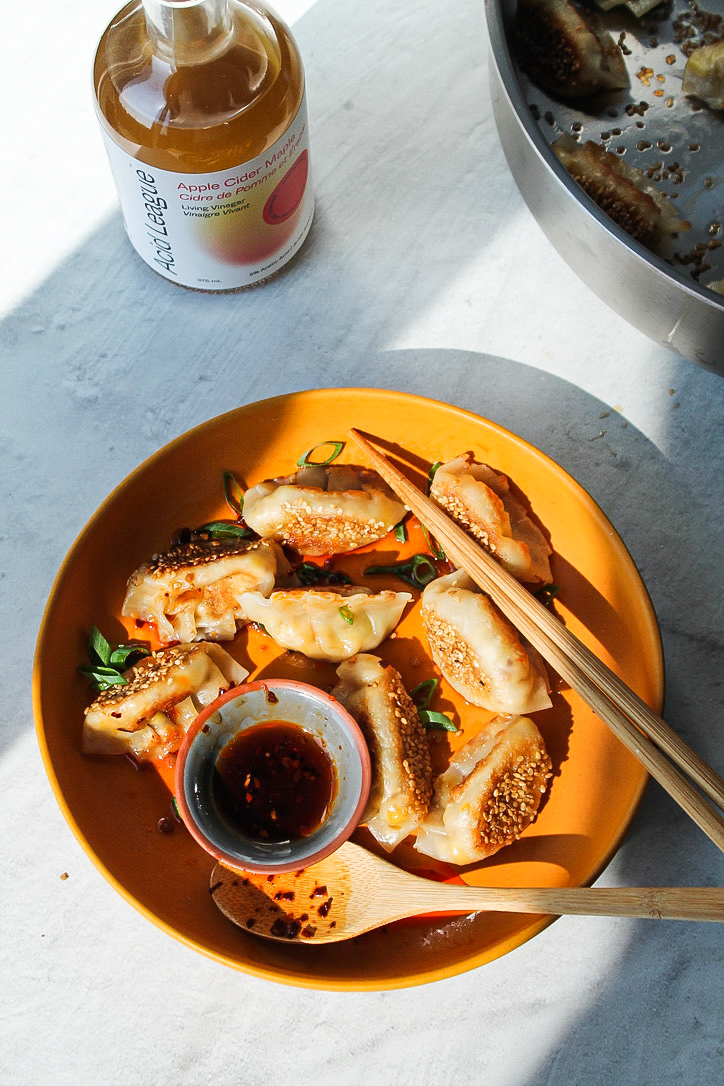 Recipe + Photography:
Chef Vicky Tran
for ENSEMBL
Our "Return of the Dinner Party" menu was inspired by memories of past adventures  – melded with the places we can be in, now.
Shanghai. A city we've visited countless times and the centre of Stackware production. Toronto. The location of our first Canadian retail store.
Chef Vicky Tran took Shanghai-staples and put a Toronto spin on them, transforming foods we feel nostalgic for into something new.
Our Corn and Leek Dumplings are a Toronto take on one of our Shanghai-street food favourites. Sheng Jiang Bao (pan-fried dumplings) are a classic on the streets of Shanghai. We updated the filling to optimize for seasonality (it's autumn in Toronto) and swapping the typical pork filling for something vegetarian. Served with an acidic and spicy dipping sauce featuring Acid League's Apple Cider Maple Vinegar, these dumplings are equal parts unexpected and small bites of comfort. Make* in advance and fry when ready to serve.
*But also make extra. Delicious and addictive, they won't last long.
Ontario Corn and Leek Dumplings
Yield: 20-24 dumplings
Prep time: 1 hour
Cook time: 10 minutes
*Vegetarian
Ingredients
1 tablespoon olive oil
1 tablespoon unsalted butter
1 cup sliced leeks
1 cup shucked corn kernels
2 cloves garlic, minced
80 grams firm tofu, pulsed in a food processor until crumbly
Kosher salt, to taste
Fresh cracked black pepper, to taste
20-24 dumpling wrappers
⅓ cup toasted sesame seeds
⅓ cup water (to seal the dumplings)
¼ cup vegetable oil
½ cup water (to steam the dumplings)
2 tablespoon sliced scallions
For the dipping sauce
⅓ cup hot water
1 tablespoon granulated sugar
3 tablespoon Acid League Apple Cider Maple Living Vinegar
4 tablespoon soy sauce
1 tablespoon chilli oil or crisp of choice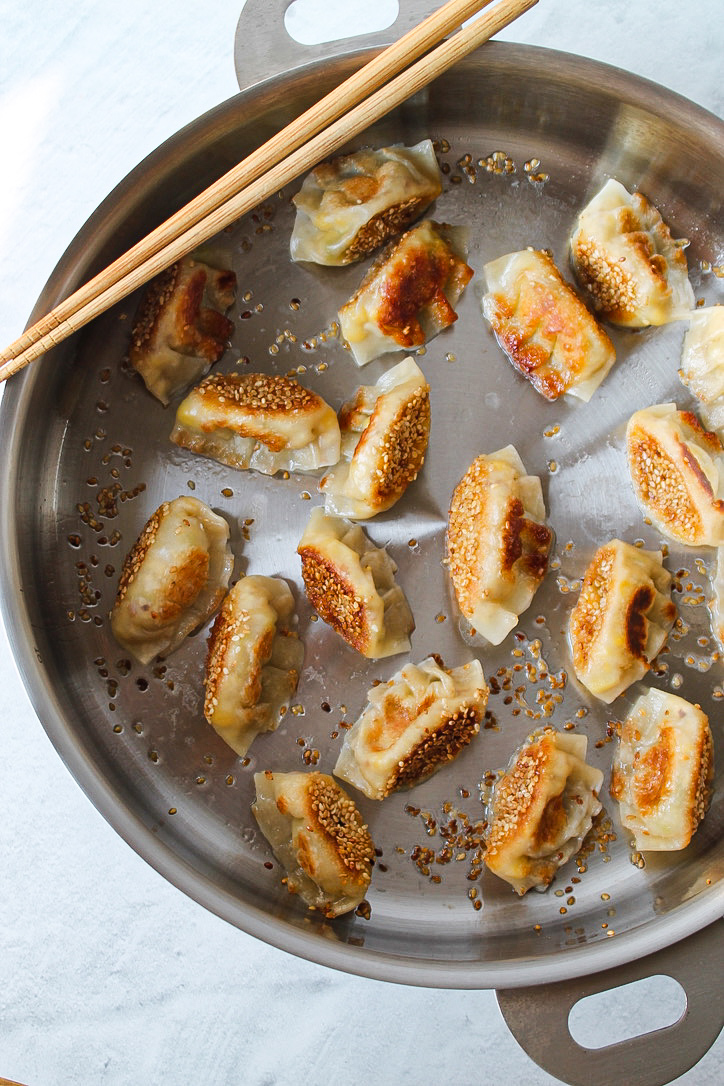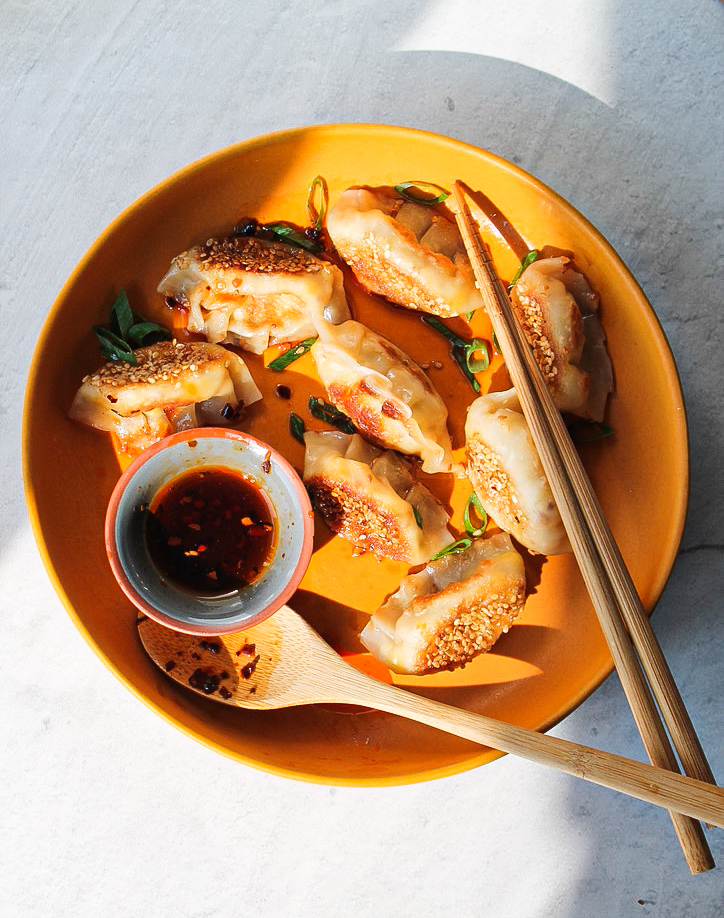 Directions
Preheat a frying pan on medium heat. Add the olive oil and the unsalted butter, once the butter begins to sizzle and melt, add in the sliced leeks. Season lightly with kosher salt and turn the heat to low. Stirring regularly, continue cooking the leeks until they have softened and begun to take on a very light golden color, approximately 10 minutes.
Add the corn kernels as well as minced garlic, continue to cook for another 5 minutes. Transfer to a mixing bowl and allow to cool.
While the filling cools, prepare the dipping sauce: in a small mixing bowl combine the hot water with the granulated sugar and whisk until the sugar dissolves. Add in the Acid League vinegar, soy sauce as well as chilli crisp or oil and mix until even.Adjust seasoning according to preference then set aside until ready to serve.
Once the cooked leek and corn mixture has cooled, fold in the crumbled tofu. Adjust seasoning with salt and fresh cracked black pepper.
Begin forming the dumplings. Add approximately 1 ½  teaspoons of the filling to the centre of each dumpling wrap, use your index finger to dip into the water and then run it along the edge of half the dumpling wrapper. Fold over, press edges together to seal and crimp as desired. Once again using your finger, wet and dab the base of the dumpling and press into the sesame seeds until they adhere then transfer to a baking sheet covered with a damp towel to prevent drying. Repeat this process until all of the dumplings are formed.
To cook the dumplings: heat a large frying pan on medium heat. Add in the vegetable oil and swirl to evenly coat the bottom of the pan. Carefully lay in the dumplings, sesame crusted base side down and cook for 2-3 minutes or until they are evenly golden browned. Flip onto one of the remaining sides and allow to cook again until golden brown. If the dumplings appear to be sticking, simply add a little more oil to the pan. Lastly flip the dumplings onto the one remaining side then add in the water and tilt the pan so that the water is evenly dispersed in the bottom. Cover with a tight fitting lid and allow the dumplings to steam until all of the water has evaporated, adding more water as necessary if the dumpling wrappers are still tough.
Serve immediately with sliced scallions and dipping sauce
Free shipping on all North American orders.